Friday, October 25th, 2002 VOLUME 1, ISSUE 1 Yeah, we're looking for a better name...
Tuition increase expected for 2003-2004 school year

Students were only mildly surprised this week to learn about the expected tuition increase next year. Due to losses suffered in the stock market, budget cuts and a tuition increase are planned. The Carleton endowment, previously at $680 million, has taken a $223 million dollar loss in the past two years, putting the present total at around $457 million. The majority of this loss has been attributed to the economic recession of the past two years.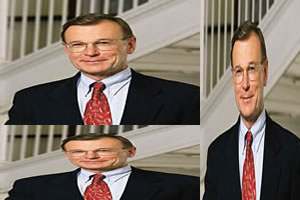 While a loss of this caliber is seen by many as being catastrophic, Dean of Budget and Planning Steve Kelly feels otherwise: "Either way, we're still far above where we were eight years ago, when the endowment was only $224 million. Even after the economic downturn, we're still in good financial shape." Kelly admitted, though, that the college is presently re-assessing its many fiscal ventures. Funding cuts for club sports and the advent of sales tax in the Snack Bar are the most noticeable changes in students' everyday lives.
Many students feel, however, that worse is soon to come. "Tuition has been increasing steadily since I've been here, and it looks like next year will bring more of the same," said senior Kate Fischer. "I'm just glad I'm graduating in the spring."
Headline news by the overly dramatic

At 1:40 pm Friday two weeks ago, I was at the Red Door Clinic in Minneapolis waiting for the results to my HIV test. Surprisingly I was not scared. I had thought I would be in the middle of some terrific breakdown, clinging onto the shirt of the forty-something man with male pattern baldness reading back issues of Field and Stream, crying about how I gave away my birth right for something or rather someone whom I barely remember. How I'd pissed on that sacred thing that is my heartbeat and consciousness, etc. etc. Instead I was fairly calm. Actually I was a tad bored. Part of this was that this was my third test in the last six months. I knew the routine. I'd tell if I was infected when I see the doctor's face. It was all old hat. The other reason was that, for whatever reason, I could not wrap my mind around the possibility anymore. Instead, I was treating this like any other test, something that could be made up through hard work and perseverance. I had the same tight-gut exhilaration that I associate with waiting to get back an Anthropology midterm. In ten minutes I'd know if I passed.
In Other News...
40%-Lean Beef On Sale For $0.49/lb.
40%-lean ground beef went on sale for 49 cents a pound last week at Econofoods, prompting a campus-wide rash of food poisoning. Dozens of on-board students, mostly freshmen and sophomores, have reported cases of nausea, chest pains and hysterical blindness in what experts are calling a "Marriott backlash."
"Some of these students haven't eaten beef in weeks," said Wellness Center spokesperson Jeanine Killengrand. "They see weeks of stroganoff and mystery dishes and then real hamburger meat for that kind of price and they just can't resist."