By an Anonymous ContributorSpoken-word poet Mike Church defeated by President Bush in free-style battle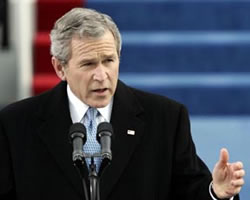 Mike Church '05 started valiantly: "You, Junior, want to be the master / of a man-made, unnatural disaster / that's war, and you're a big fat whore / to the corporations / you sell out the nation..." It looked as if the left-wing spoken-word poet was guaranteed a win in this unprecendented free-style rap battle between himself and George W. Bush, the 43rd President of the United States. Yet surprisingly, Church was utterly defeated in this epic face-off.
The battle occurred outside Sayles-Hill at roughly 4:45 pm last Wednesday, and was witnessed by more than a hundred and fifty Carleton students and Secret Service agents, as well as the entire CNN viewing public. While the event was short, witnesses have described it as 'intense', 'brutal,' and even 'sickening.' According to spectator Jean-Christophe Moran '06, "the Prez was unstoppable. He showed no mercy on Mike. The overkill was horrific." Dr. Charles Ansell '04 concurred. "Church is a good guy and all," he said, "but that dog got splattered on this one." An anonymous professor agreed: "Even his Real Analysis skillz were of no use to him here. 'Dat kid was D.O.A."
Church began the battle with about thirty seconds of his trademark left-wing, abstractly egocentric, and cryptically chauvinistic improvised poetry, much to the apparent chagrin of the President. Spectators chanted "Go, Mike!" as the spoken-word artist rhythmically ripped on the President's foreign policies, economic programs, and bad grammar. It seemed as though Church had decisively won, until the President replied with a forceful: "Hey Mike Church, you better learn some tact / or you'll jailed under the Patriot Act." Suddenly, the tables were turned
Over the course of the next forty seconds, the President proceeded to (1) make fun of Church's hat, (2) bring up Mike's "sketchy" freshman year, (3) remark upon the length of Mike's "Scud", (4) mispronounce "nuclear" and (5) use the word "poopy". Shocked by the vicious reprisals the President offered up, Church's jaw dropped in abject defeat. Seeing his opponent wither under his attacks, Bush shouted: "I'm 'da real dawg on this campus!" The President's victory was decisive.
Experts believe that Church's bruised ego will take months, if not years, to heal. Church's ego, formerly at a robust Senator size, has been reduced to that of a mere Elizabethtown school-board member. The damage may be irreversible."
After slaughtering Church in the free-style battle, George W. Bush proceeded to yell "Thank you all for your support! Vote Republican in 2004!"
---
Dubya - Freestyle
(full text of George W. Bush's stylin's)
Hey Mike Church, you better learn some tact
or you'll be jailed under the Patriot Act;
yeah, MC-- your rhymes are all pukular
so I declare war, a war that's nukular;
your left-wing shit's as weak as it gets
so this battle here you'll learn to regret,
like your freshman year, need I say more,
so etchy, so sketchy, pathetic and sore;
no, MC, you're not a cool cat,
so quit spitting rhymes and take off the hat, you're a lightweight here, a wimp and a dud,
and let's not forget the size of your Scud;
man, your rhythms, your rhymes are so
poopy, don't mess with the big boys, we're the patriarchy!